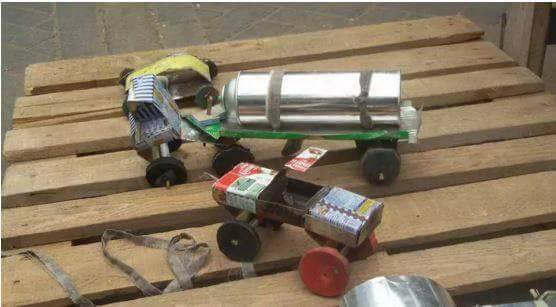 Speak to anyone who grew up in the 80s and they will tell you that they had to build their own toys. Ghana was very disconnected from the world in those Rawlings-militia years. There was a famine at some point to go with it too. But there was a good side to that internet-free and lacking-of modern child development niceties period. Young people were forced towards creativity. You literally had to build your own toys. What you built determined what you are made of and you built what you could with what you could fine. For raw materials in the vehicle business, milk and milo tins which were only obtainable from the rubbish dump of posh families.
Folks were creative and out of those empty tins they designed and built some fantastic things. Creative juices were flowing like everybody's business. One Christmas we built Christmas houses out of palm leaves. While most Christmas houses were simple single-room structures, we decided to take things to a new level. We built a sophisticated five bedroom house complete with washrooms. The idea was that we team members must each have a room to which we will take our imaginary new girlfriends. We worked hard and finally by the 23rd we were putting finishing touches to the most outstanding Christmas house anyone had ever seen. We were stars in our own rights. I led the design while my friend Coffie in whose parents' compound this whole venture was taking place led the construction. In the end there were no girls and I wasn't even allowed to spend my Christmas-eve in my groundbreaking Christmas house.
Cars and Christmas houses were not the only things kids built back then. Folks built musical instruments of all kinds, door mats out of corn husks, hats made from coconut tree leaves, door mats, wheeled vehicles of all kinds. Even guns and bazookas from chuck Norris movies were in constant production. It was a fun period. A fellow I know built a vehicle out of broomsticks and the jethropha fruit. Looking back I realize now that there was a lot talent and the environment we were in forced it out. I saw guys play football at almost miraculous levels. We could have produced Lionel Messis of our own—these kids were that talented. There were kids who could invent their won languages and this is no exaggeration. Everyone had something. Now I can imagine how valuable a build-Something competition would have been valuable to the nation at that time. Sadly we have lost all that talent. Most of those guys now in their 40s all have office jobs among other things. Nothing came of all that talent and the creative juices that flowed. The reason is simple; nobody was interested enough to nurture and focus them on careers that could have led to something great.
The truth is that most teachers and parents don't know how to identify talent in young people. And even when it is self-evident and glaring, they do not know what to with it. They watch it die and in many cases they are responsible for killing it. This inability to identify and harness talent is to a large extent behind the state of our nation. We import literally everything and build nothing—it is an expensive life style for a nation. From my era, those who did not make it up the academic ladder now live in poverty— talent and all.
It is said that "in the abundance of water the fool is thirsty". In our case; in the abundance of talent a foolish nation suffers.
Could things have been better if we had harnessed all those talents and directed them the right way. What would have happened if those kids had maximized and monetized those talents. Even now the in year 2017, we still do not have a national program for mobilizing, harnessing and maximizing gifts. The schools don't even think about I as they simply load students with information they don't even know how to use. But all these is about to change.
Giftworks is a project created to curb this menace that threatens the very future of our nation and continent. It will ameliorate what can only be described in "chrife-longo" as an affront to God's purpose. The program is a workshop consisting of three parts. Part one has three presentations on gifts and their importance in the life of the individual. It also treats purpose and how they are connected to gift and finally the personal power that can be generated from gifts. The second part takes participants through gift testing systems to help them identify what their gifts are as most do not know. The third part is a group coaching session that will help them develop products and services around the identified gifts. They are then taken through a monetization process that involves building business models and marketing strategies. At the end of the program participants leave with a business built around their natural capability. No one fails doing what they are gifted for especially if they have coaches to help them along the way.
While the program has started earnestly in Accra, the organizations behind it, Performance Academy and Hopeman Ministries intend to take it to every district in collaboration with members of Parliament and District authorities in the quest to substantially reduce unemployment and poverty. Creator of the project Nene Katey Aklie who is also a Minister and Performance Coach said;
"Everyone has something inside of them. It has been provided by God to ensure their welfare. To ignore it is to limit a person's life and to trap them in poverty. One's power rest in the will of God for their lives and that will is the reason he gives us gifts and talents. The best things we can do for any young person is to help them find it. This is not always an easy task for parents and teachers who do not have the requisite skills. In some cases the gifts are very apparent but guardians do not know what to do with them. That is why coaches are extremely important. GiftWorks will help in this regard."
Team Giftworks® is looking forward to working with youth groups in churches schools, district authorities, government departments, NGOs and everyone else to help shape the future of our young people. Giftworks is likely to be a key weapon in the so-called-fight against poverty. Targeted at young people from age 16, the program is on tour across the nation and planned to reach Swedru, Winneba, Dunkwa-on-ofin, Akropong and Ada before the end of December 2017. You may reach the team on 0268388560 for participation, sponsorship, volunteering. Click here to register your interest